The first junior high boys (grades 6-8) basketball practice will be Monday, August 15th from 3:30pm-5:30pm. Please make sure to have a physical on file.

The first High School Cross Country practice will be Tuesday, August 16th at 6pm
Several FFA members enjoyed their year-end reward trip today with an outing to Branson and concluded with a meeting with the Pineapple Whip hula girl.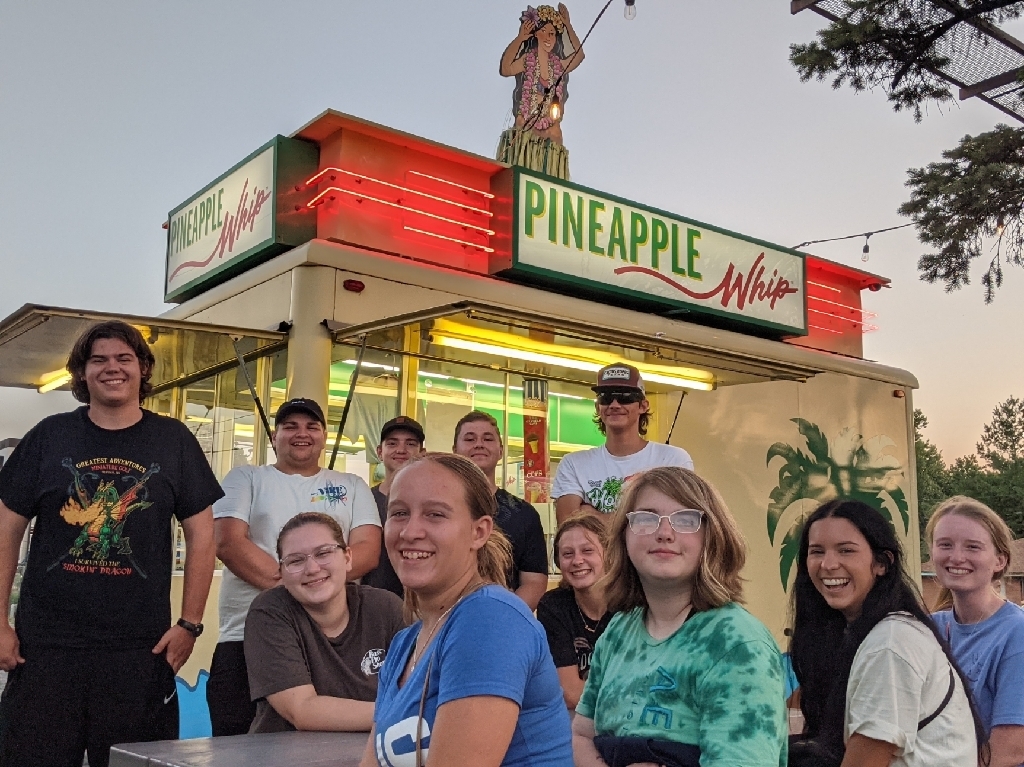 Don't forget this weekend, August 5-7, is the tax free holiday for school supplies. And it's also the Polk County Back-to-School Extravaganza event. #HornetStrong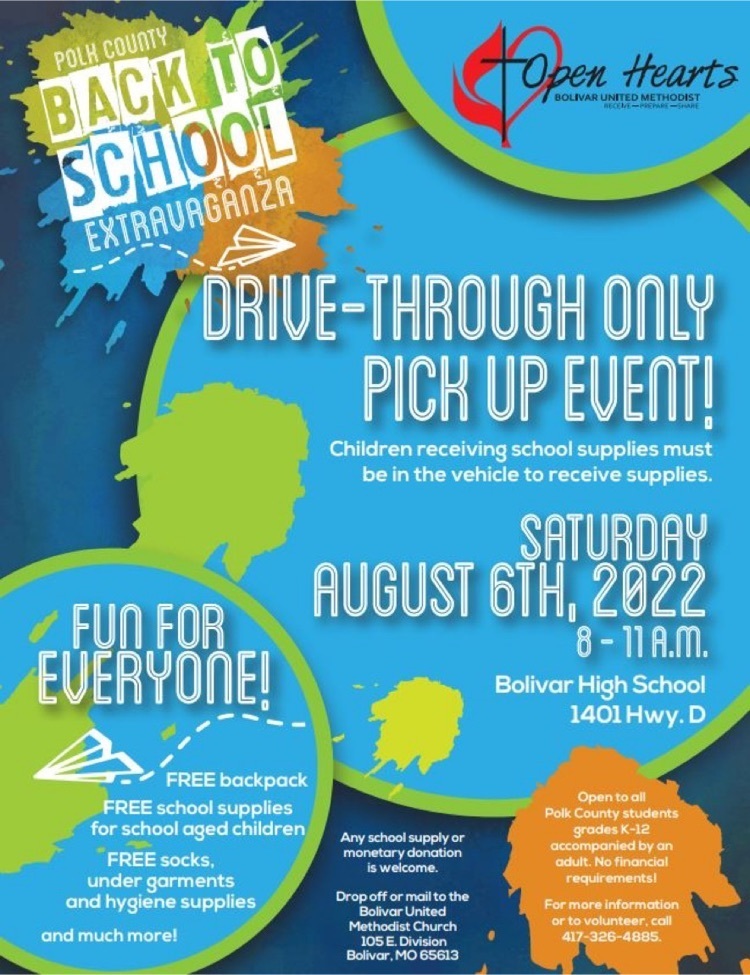 REMINDER High school softball practice will start Monday from 8am-10am. Junior High girls basketball (grades 6-8) practice will start Monday from 10am-Noon Junior High boys basketball (grades 6-8) will start Monday, August 15th. Time TBD Cross Country first practice TBD Students must have physical in order to participate

Softball practice will start Monday August 8th. Practice will be from 8am-10am. You must have a physical that day or you will not be allowed to practice.
Reminder to FFA members and incoming freshmen of the August FFA Meeting and Freshman Mixer tomorrow (Wednesday) from 3 to 5 pm. Come enjoy ice cream, dessert and recreate with fellow members.

REMINDER!!! Cox Care Mobile is providing sports physicals today from 9-2. Any student that would be interested in participating in sports is encouraged to take advantage of this opportunity. Also, MSHSAA require band members to have a sports physical as well. Anyone choosing to attend should arrive at the HS gym lobby from 9-2.
Part 2 for FFA Meeting reminder. Students are responsible for providing their own transportation. Hope to see many of you tomorrow.
Reminder of the FFA Meeting and cookout scheduled for tomorrow from 2-4:30pm at Masters Beach. Members and prospective Freshmen members are welcome to come enjoy swimming, fellowship and food. Also a reminder that if you are planning to park at the beach there is a day use fee of 1 dollar per person or a max of 5 dollars per carload. 15 years and under are free.

Congratulations to the Fair Play FFA Super Farmer team of Ryan Hoxsie, Koda Wicklund and Ashlynne Kirksey for taking champion team honors at the Polk County Fair Friday evening. They took home a cash prize and traveling trophy for the 1st place finish.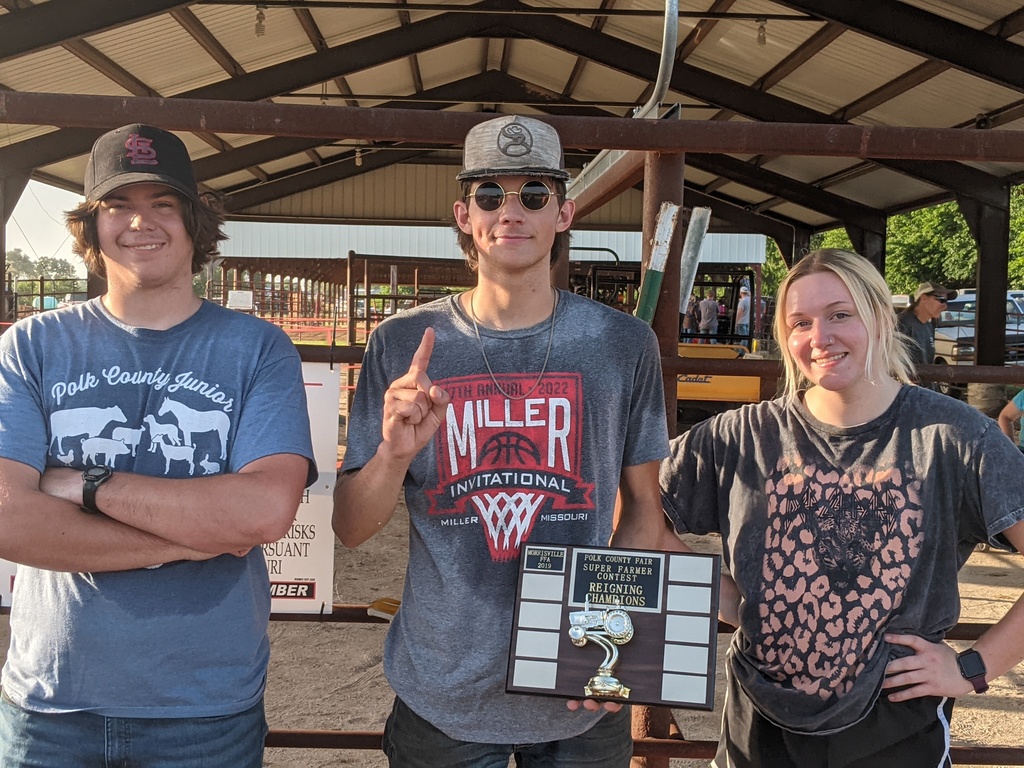 Reminder to FFA members (and Freshmen), the Area FFA Big Surf trip is Tuesday, June 21st with the bus leaving at 8:30am and return approximately 5-5:30pm. Additionally, the original estimate of cost changed. The cost will be $25 dollars and will need to be CASH. Please try to bring exact amount as change will not be available. We have to submit total payment for the entire chapter when arriving.
FFA members attending community service Wednesday at the Polk County Fairgrounds will benefit by bringing long handled tools like hard rakes, leaf rakes, pitchforks and shovels. Bus will leave at 8:30 am. Dress cool and bring water.

Fair Play Seniors 2022: Just a reminder if you received a Riedesel Scholarship, your thank you letter and acceptance form is due to the superintendent's office by June 16, 2022. These two items must be turned in by that date to receive your Riedesel Scholarship money. If you have questions, call the superintendent's office or text Mrs. Garrison.
Due to weather changing plans for the activities today, FFA members will NOT need to work at the Polk County Museum this morning. Sorry for the late notification.

We are so proud of all our math contest participants! The following participants placed in the top 10 of their section. 8th grade Cody Henderson 4th place Caleb Henderson 9th place Geometry Keelie Henderson 4th place Andrew Mettler 8th place Dakota Roy 10th place Open Test Keelie Henderson 6th place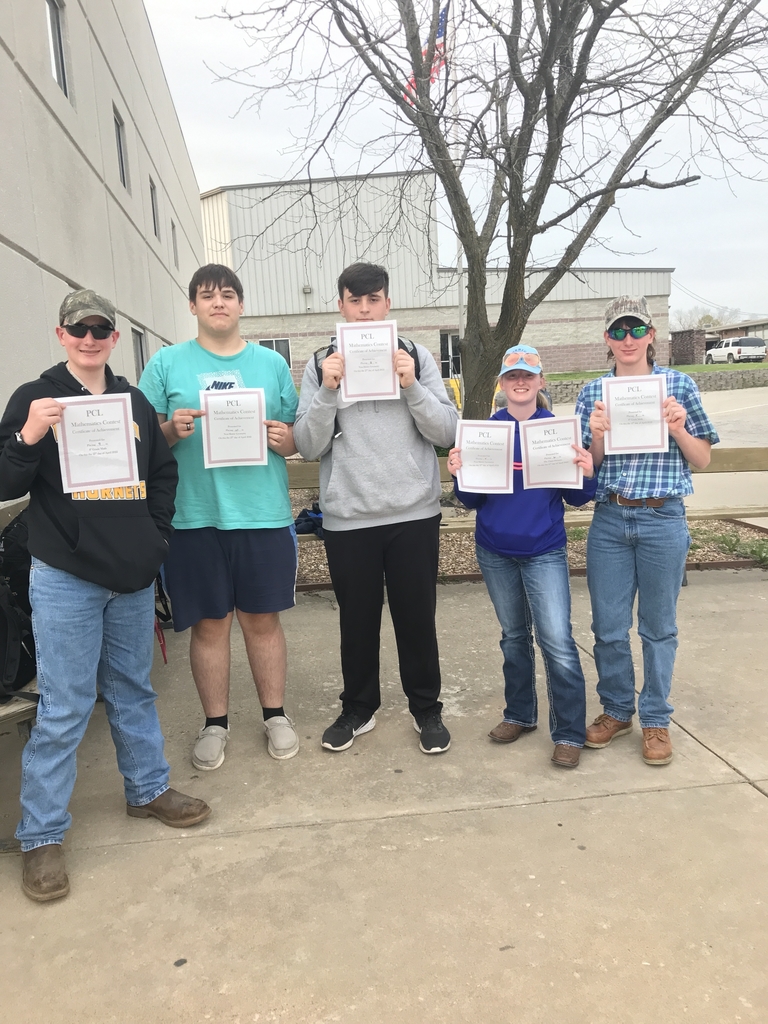 Our 2022 Spring Concert is April 28th, 6:30 pm, in the middle building in the multipurpose gym. We will hear performances from the 5th and 6th grade bands, HS Choir and the HS band (this includes grades 7th and 8th).
Congratulations to the FFA Dairy Foods Team of Bailey Clark, Chloe Foster, Kegan Anderson and Kaden Lewis for earning 3rd Place in the FFA State Career Development Events. Kaden was first high individual in the 180 member competition.

More pictures of Dairy Foods on Stage!